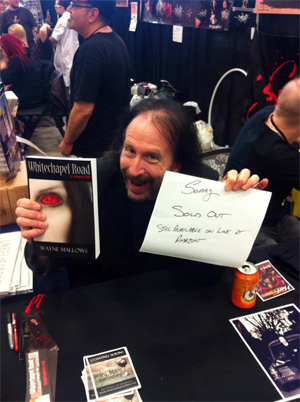 Wayne Mallows at Macabrecon Niagara Falls Comicon 6-9-12
Well, as you can tell by this photo, it was an awesome day at MacabreCon in Niagara Falls Satruday. The doors opened at 10:00 AM and I was sold out but 11:50 AM. That is a first!
Huge kudos going out to David Daniloff and all the others who were involved in putting on such an amazing and well organized event.
It's the first show I've been to that everyone from the parking people to the volunteers were both knowlegable and helpful.
For all those who came to table after I had sold out, I will be at the Pelham Public Library in Fonthill on June 23rd from 2 - 4 pm and is Free. I will have more books with me then.
So again, thanks to the organizers and the people who took the time to come out to the show and specifically to see me.
Have a great day everyone!
W