Press release and image for media use. Please contact us for print quality images and other details.
Canadian Author Wayne Mallows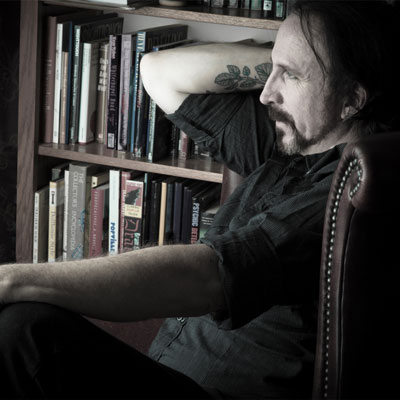 By Alison Meeks

Mallows' second book, Mary, Mary, Quite Contrary, was recently named number 1 in Horror and number 16 over all in "The 50 Self-Published Books Worth Reading 2013/2014". He has a natural unassuming way and quick wit which makes him a favorite guest on many radio talk shows.
Wayne Mallows Vampyre Tales have stripped away the recent pop culture flash and brought vampires back to being, as best described by a fan, "truly diabolical". Mallows' vampyres are realistic, they could be your neighbour or coworker, but you best hope that they aren't.
In Whitechapel Road, Mallows' has taken his vampyre and realistically merged his story with the historic facts pertaining to the infamous murders committed by Jack the Ripper. The book is so realistic in fact that it leaves you questioning if what you just read was the truth of what really happened during this unsolved crime spree.
In Mallows' second book in the series, Mary, Mary, Quite Contrary, a young man happens upon a box of letters while on a construction job. It appears they are previously never before seen letters from Jack the Ripper and his subsequent investigation to validate them draws much attention, not all of it good. While the vicious murders of 1888 had questionable police practices, will today's technology be able to solve this case or leave detectives scratching their heads as they did over 100 years ago?
Mallows' book three is titled, Unnatural Selection. In this book the character Aremis continues this journey from the first book as he deals with his conscience and the consequences of outliving your family and making long term relationships. Book three of the Vampyre Tales is set during World War I.
As it is with Mallows' writing style, you are transported into the story, feeling you are there as a silent witness to the horrors you see but are unable to stop them, even if you wanted to.
The Vampyre Tales are a fresh take on the much exaggerated vampyre of today.
Don't make plans to do anything until you have finished the last page – you won't want to put them down!
About Wayne Mallows
Wayne Mallows was born in Toronto and currently resides in Niagara Falls in a haunted 140 year old Gothic Revival home. He owns and maintains a vintage funeral coach which he drives daily during the summer months.
Mallows' also consults on creating a realistic vampyre and is involved with numerous haunted events coaching actors on creating a believable character. Mallows' was involved in the creation of Paramount Canada's Wonderland's Fear Fest/Halloween Haunt in 2004. In the first year he created the vampire character that became well known at the front gate of the park in the month of October and subsequent years was referred to as the face of the event.
Wayne Mallows is the author of Whitechapel Road; A Vampyre Tale, Mary, Mary, Quite Contrary; Book II of the Vampyre Tales, Unnatural Selection: Book III of the Vampyre Tales. He has just finished writing book four in the series, the title being Dark Origins. The Vampyre Tales series is scheduled to be four books in total. Books 3 & 4 are only available directly from Wayne. Contact him for details.
For more information, please visit http://www.waynemallows.com or join him on his Facebook page https://facebook.com/waynemallows .
The books are available online via Amazon Worldwide, Barnes & Noble and Chapters/Indigo online and at in store kiosks. You can also purchase signed copies at shows in limited quantities.
Contact
To learn more about Wayne Mallows or book him for your event, please contact