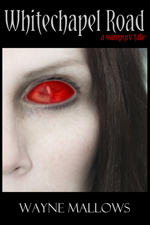 Born in the South of England in 1854, Aremis thought his life was laid out from the very beginning. But that was all to change. Expecting to meet his wife-to-be at the annual harvest festival, Aremis has no idea that the evening would bring forth an evil far beyond his comprehension. Nursed back to health by his sister Temperance, the terrifying truth begin to unfold and he is forced to leave his home in the hopes of finding answers within the city of London.
There on the shadowy back streets of the cities east end, he finds himself at the heart of an ancient curse. Drawn into playing a deadly game of cat-and-mouse with a beautiful female stranger, he quickly discovers that she may be the only one who can explain the strange events which have besieged him. Haunted by nightmares and conflicting moral issues, he is propelled towards an unbelievable confrontation, one that will find him at the centre of the most horrific string of murders in London's history.
Third Edition
In large "trade" size paperback,
Softcover 351 pages
From Amazon - A New Kind of Read - By Michelle Desrochers, May 18, 2013
This review is from: Whitechapel Road - a Vampyre Tale: As a Vampyre enthusiast I really wasn't sure what to expect! A Jack the Ripper story with a Vampyre twist! Well I surely wasn't disappointed. Mr. Mallows has a wonderful gift of making the reader feel like he/she is a part of the story! The details are so vivid, and the historical information was well researched. I thoroughly enjoyed the book, and highly recommend it to any Vampyre lover looking for a different kind or read!
I will also have copies of the book with me for sale at various events and will be doing book signings also.
I look forward to hearing how you liked it.
Wayne ^v^