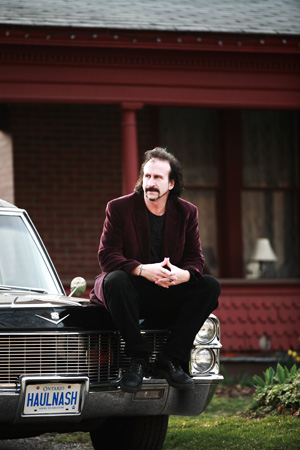 I have been writing since I was in high school and enjoy storytelling, especially when expressed through the written word, public speaking and drama.
I have written a number training manuals for the motorcycle mechanics courses taught at Centennial Collage in Toronto and have taught those same courses through their night-school programs.
I had, up until 2009, never been published in the main stream before, but I also had never tried. It's only been in the last five to seven years that I have had the sort of time required to create something that I feel would be worth reading.
Whitechapel Road; A Vampyre Tale was born from a very personal viewpoint.
I had starting telling the tale of Aremis Eilbeck, (the main character), sometime in the early 90's when I needed to create a believable character for a home grown business called Scream Works, a haunted house complete with grounds, for Halloween. This took off and I quickly expanded that idea into a web based business called Scareyman Productions, the main character being that of a vampire.
It was over the following ten years that I polished this character into such a believable creation that I thought it would make a wonderful book.
I had worked on this project for a little over 3 years. In that time I not only wrote the fiction that I had created but I had also researched the murders committed by Jack the Ripper. I have gone over police reports, spent many a night reading the over 300 letters alleged to have been written by the serial killer so that I would have a better understanding of what was taking place in Whitechapel during the autumn of 1888. There was, and still is, much controversy over the cases and the handling of them, and to be frank, I found much of the evidence easily pointing towards the killer being from the realm of the supernatural, the papers of the day originally referring to the killer as The Whitechapel Vampire before authorities "politely" told them to cease with the use of that name. The media refrained and took up the name, The Fiend of Whitechapel before the killer himself coined the name, Jack the Ripper. It wasn't much of a stretch for me to then have that person actually be a vampire.
In addition to writing, I have also been involved with special effects make-up both for theatre and film, my specialty being that of graphic looking wounds.
I have given talks and demonstrations to a number of high schools in my area on how to take on a character and how to apply make-up, everything from doing light shading to horrible burns and disfiguration.
Early in 2001 I was brought in to consult on a film, Blood Bank, a short film created for the California Film Festival in 2002. I worked closely with the writer and producer to create realistic vampire bites rather than the familiar two holes that has become the trademark of Hollywood-style vampire bite. I also was asked to partake in the B movie: The Vampire Dentist, in which I was the dentists driver, the car of which was my then, 1981 hearse.
In 2004 I was asked to provide assistance to, then Paramount's Canada's Wonderland, in the creation of Fear Fest/Halloween Haunt. This quickly turned into an annual commitment. In the first year I created the vampire character that became well known at the front gate of the park in the month of October and subsequent years was referred to as the face of the event.
I currently offer my assistance to parks and events that are keen in establishing a haunted event, or improving an existing one. In the last four years I have been brought in to consult on numerous haunted events, and give seminars on how to create a believable character for these events.
In addition to the fictional ghosts and ghouls, I'm also involved with numerous paranormal groups, both locally and around the world. I hold investigations at my house, a 140 year old Gothic Revival home located in Niagara Falls.
I own and maintain a 1965 Cadillac S&S funeral coach which I drive daily in the summer months. It is all original including the paint.
I'm involved with a number of ghost walks in and around the area I live in, and am a guide for Burlington Ghost Walks. On these walks around the city, I am your host and give you not only the history of the streets and buildings but also the haunted background of those same places.
Everything I am involved in I come to with a passion and deep desire to give all I can give to make whatever it is I'm working on be the best it can possibly be. Whether that be a talk on ghosts at a ghost walk or applying make-up for a high school play.
We've got one life to live, I plan on making mine count and get the most out it that I can.
Wayne